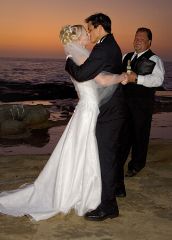 Just what the word "Elope" implies! Just the two of you running off to San Diego to get married in front of the Minister. Much better than waiting in a long line at the courthouse or a smoke filled wedding chapel in Las Vegas. Besides, you can't beat the views in Coronado!
Choice of:
~ Civil Type Ceremony – A warm and romantic ceremony focused on the love of the two of you!
~ Spiritual Ceremony – A more traditional Non-denominational ceremony w/marriage prayer and blessings.
~ Christian Ceremony – A traditional Christ centered ceremony w/marriage prayer and blessings,
Filing of Marriage included.
Special Acts of Celebration
You may request one of the following Acts of Celebration be included in your special moment however, you will need to bring the items necessary to the ceremony.
A wonderful way to show two becoming one; (an alternative to the Unity Candle), especially if your ceremony is on the coast! 2 separate containers of colored sand poured simultaneously into one larger container that makes for a wonderful keepsake in your new home together. A Christian Sand Ceremony is also offered where we will incorporate how Christ is the foundation of you as an individual and how he will also be the foundation of your marriage together. 3 containers of colored sand is needed for this ceremony.
A heartwarming moment where you will present to each other your first gifts of Love; "The Rose".
The ceremony shows how a simple yet beautiful Rose can help your future together as a couple. It also brings you closer; in times of celebration and unhappiness.
Special Offer from Sand~Sational Ceremonies is available to Elope TO San Diego Couples!